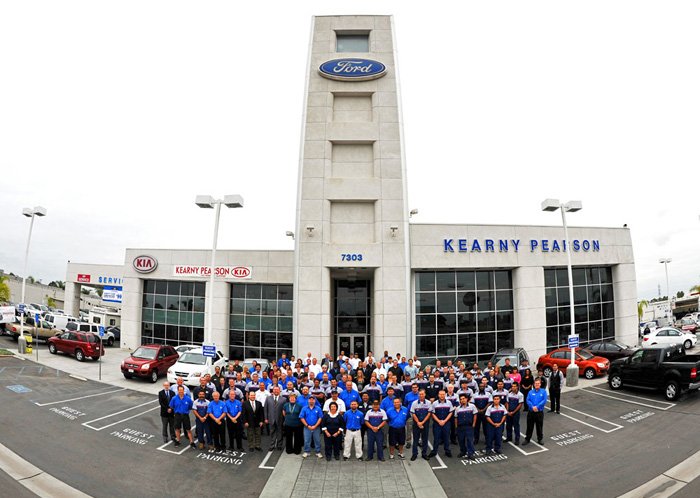 Dear San Diegans:
It's not often that we get the opportunity to thank you publicly for your support. In a time when other car companies are facing unique challenges in the market, we are proud to say our future looks bright.
Kearny Pearson Ford is fortunate to be backed by the strength of our manufacturer, Ford. We have worked diligently to achieve an increase in year over year sales, something many other car companies haven't attained in this current climate. This year, we have also hired more hard-working San Diegans to serve you, our customers. Much of this has been possible because we are part of an automotive company that strives for constant improvement and evolution.
A perfect example of this is our 2011 Ford Focus Electric. The new Focus Electric runs exclusively on electricity stored in powerful, state-of-the-art batteries, which means it never needs a drop of gas. It comes with a unique instrument panel that helps you closely monitor your energy consumption when you drive, to make sure you get the most miles, and fun, out of every charge.
Kearny Pearson Ford is proud to be a 3-time consecutive winner of the coveted President's Award. We rank in the top 10 in California for Ford sales and our parts and service business puts us in the top 15 nationwide. The number one reason for the success of Kearny Pearson Ford is the people we have in place in all of our departments. We feel our Service, Parts, Sales, and Collision Center have the best employees in San Diego representing us on a daily basis. We invite you to our dealership to see the difference. We are a proud member of the Sunroad Automotive Group, locally owned and operated.
We challenge, you San Diego, to continue to support an American automotive company that has led the industry since its inception. We are confident that we are producing an excellent product line with tremendous value. We thank you for your continued support.
---
Kearny Pearson Ford earns coveted President's Award again
SAN DIEGO, Calif. - March 14, 2011 - It's the highest honor Ford Motor Company can award, reserved for just the top 8% of dealers nationwide and Kearny Pearson Ford is proud to be the recipient of it for four of the last 5 years. It is the coveted President's Award. Kearny Pearson Ford earned the recognition by achieving superior customer service in both sales and service.
Vice President, General Manager Doug Davis said, "I am very proud of my entire staff of sales and service professionals who helped us earn this elite ranking which sets us apart from other Ford dealerships. I would love to invite anyone in San Diego to come by and experience the level of commitment we have to taking care of our customers not only when we sell them a car but when we service it as well."
To help celebrate their award, they are having a special sales event during the month of March. The event will feature special pricing on new and pre-owned vehicles as well as commemorate their 25th Year Anniversary.
Davis also attributes the dealership's success to his strong staff that has many years of Ford experience. "We are lucky to have dedicated employees who look forward to coming to work each day. These employees strengthen our dealership. Their work ethic and customer service focus have helped us achieve great growth within Ford."
The Kearny Pearson Ford service, parts and body shop are ranked in the top 20 in the entire country for Ford volume. This is out of more than 3,200 other dealerships. During 2010, their sales department increased sales by more than 20% and is proud to be a Ford leader in the Western Region and the entire US.
As a good neighbor in the San Diego Community, they are involved with numerous philanthropic causes including: local little league teams, high school sports teams, San Diego Fire and Rescue Helicopters and many more.
The dealership is located off the 805 at 7303 Clairemont Mesa Blvd. "We're Kearny Pearson Ford we've got your ride on Clairemont Mesa, East of 805." For more information about the 25th Anniversary Celebration Event or special pricing go to Kearny Pearson Ford's website at kpford.com or they can be reached at (858) 560-5544.